---
Chapter 13: Rio Grande Valley Road Trip(June 2000)

This page has been visited

times.

---
Rio Grande Valley Road Trip,
or
McAllen, Mexico and Mariachi Estrella
Summer was in the air and, for once, there was time to have fun. It was now June 2000 and the wonders of life were our to grasp. On 10-11 June 2000, Joe David and myself were invited to attend a Corporate Learning Course (CLC) sponsored by the Brownsville Composite Squadron. The event was to be held on the University of Texas at Brownsville Campus in Brownsville. In addition to this, Pricilla Garcia, the director of Mariachi Estrella, booked us a gig in Harlingen, Texas. It was evident that that would be a Valley weekend. Norma and I traveled to the Rio Grande Valley for the first time together. We would, however, not be alone. Jessie Rios and this wife, Patsy Rios, joined us. It was our first road trip with the Rios' and much planning went into that adventure.
The first plan involved going to Mexico and staying at a hotel in McAllen. We would drive out Friday after Jessie's music lessons, get to the hotel and travel south of the border to Mexico. There we visited shops and mercados, Mexican market places, and walked the streets of Reynosa, Mexico. It was a rainy, humid and gray day. Despite that, we had fun looking at various curios for sale. I made the mistake of wearing a Hawaiian shirt. Andy Rooney of 60 Minutes talked about this in June 2000. He said, while talking about the Tourism industry, that a tourist wears a special uniform and that that uniform marked a person as a tourist. Well, needless to say, every little child selling something and every vender vending something tried to flag me down. They tried to make me deals I couldn't refuse. I played along and answered them in Italian. It worked!
Patsy Rios (left in picture) and Norma Mata (right in picture) at the Rosa's House, Me and Jessie Rios clowning around at a restaurant in McAllen.
We then drove through Mexico to Nuevo Progreso. The trip was relaxing and I tried to absorb the landscape. I marveled and Mexico's frontier countryside. I saw the state of Mexican Railroads, a Mexican Army Post and the open areas that surround Mexico's gateways to the United States. You see, inland Mexico is very different from la frontera . The border communities are highly "Americanized," that is, they are influenced by the need to sell, and buy and act like United Staters. This is the bulk of their industry and income. While I did see several factories, the bulk of the people are employed in the shops of the mercados. Countless doctors, dentists and pharmacies selling all manner of services to the public. Many United Staters, driven by inflated medical costs and even higher pharmaceuticals, go to Mexico to buy Penicillin, Amoxicillin and other drugs for as much as 200% less than in the United States. It's an irony of modern times that the citizens of the "greatest country on Earth" have to go to a so-called "Third World Country" to buy medicines.
We cam back from Mexico and relaxed in the hotel for an hour or so. We contacted many of our friends down there. I called Pete Suarez and even convinced him to play a gig with us. Jessie contacted his long time friend Alan "Sonny" Rosa, the songwriter and arranger. We had dinner that night at "Don Juan's" in McAllen. Sonny offered us his house to spend the night; we thanked him and went back to the hotel. Upon seeing a cock-roach emerge from a wall socket, we contacted Sonny and came to the conclusion that we might take him up on his offer after all.
The next day I drove to Brownsville and went to the CLC. Many of the Group's finest officers were present to learn and instruct on that hot June weekend.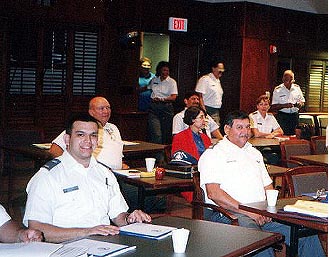 Brownsville Commander 2Lt. Ariel Merrell, CAP, Major James C. West, CAP, Corpus Christi CS Finance Officer 1Lt. Maria D. Castro, CAP, Corpus Christi Cs Admin. Officer 1Lt. Fidel Alavrado, CAP, S/M Jaime Leal, CAP, S/M Nydia Ruiz, CAP , Maj. Marisela Montalvo, CAP, Brownsville's former CO Maj. Chris Bujanos, CAP and Major Edmundo Arizpe, CAP. Major Frances Garza, CAP was the MC of the CLC and provided much needed drive. The activity went well and a light-hearted spirit descended on all present. On Saturday, the staff and students enjoyed a wonderful lunch at "Los Camperos" in Brownsville. There we all had a great time. "Los Camperos" is one of the finest eating establishments I have ever had the pleasure of eating at. The service was excellent and the decor was breath taking. Waiters wait on you in formal attire and meet you needs with grace and caring. I vowed to return and suggest that, if you are in Brownsville, you visit it.

Later that night we played our gig at a place called "Casa del Sol." It turns out that their are two places of that name, one is a cantina, a bar, the other is a civic center. Prissy Garcia neglected to ask for an address when she took the gig and we, as with Murphy's law, showed up to the wrong place. Upon looking on the Internet, it seemed that his bar was the correct place. After looking at the surroundings, it was obvious that that place was no place for a wedding. We then sought out the correct place and played the gig. Things went well and the gig was successful. We later met Sonny and his wife Bell at a restaurant where it was a custom to eat peanuts and throw the shells on the floor.