---
Chapter 22: Micaela Rae Carrales

This page has been visited

times.

Sometimes, late at night or even in the quiet times I spend alone during my conference period, the world around me stops. It is there, between dreams or between assignments, that I make the most warm and emotional realization. That realization is that, after all that I have done in my life, the most important role I have is that of being a good father to my daughter, Micaela Rae Carrales.
Norma and I were married in July of 2001 in Kingsville. We loved our life together and made a life and home for ourselves. Even though we were very happy among our friends and family, our life was a bit empty.
We had tried to have a baby for a few years and had began to face the reality that we might not be given that honor. If it had not been for the medical advice of Dr. Osvaldo Brusco of Corpus Christi, Texas, we may have been resigned to that fact. I strongly suggest to any couple who is having a hard time in this matter to consult a doctor.
The day we found out Micaela was coming was yet another funny story. I was sitting at the kitchen table with my mother and Norma was in the bathroom. She came out of the restroom and told me that the pregnancy test she had taken was positive! I was very excited, but skeptical. Norma had used an HEB pregnancy test, which was very inexpensive.
"Are you sure this is real?" I asked. She replied that she didn't know. "Why did you use a 35 cent pregnancy test?" She told me that she had given up on it and had decided to just use any old test kit.
I had to know for sure. I insisted that she go to the Planned Pregnancy office, or hospital, in Kingsville so that we could know for sure. This was all during the last week of school before the Christmas break 2002.
At the school we had released the students early for Christmas and we having a huge feast. Every one had brought some food item and there was enough food for each of the teachers at Memorial Middle School to eat about 100 times each. Just before we were going to exchange the Secret Santa gifts ( a local custom where people draw names and anonymously give gifts for about a week culminating in a major gift at the end, I was giving gifts to the lovely Samantha Canales and Nurse Rebecca Cox was giving gifts to me.) All this became moot and unimportant when my cell phone rang. I went outside to the car to answer it.
Norma sounded excited. "You're going to be a daddy!" she exclaimed. The news struck me like a religious vision. I didn't know if I should laugh or cry. I simply walked back into the party, which wasn't as fun anymore, and sat. I told my good friend Ruben Almaraz that I was going to be a dad. He expressed congratulations and helped me to return to my senses. I was extremely happy, but I still could not be sure. I wanted it more than anything in the world, but my mind just wouldn't accept that such a good thing could actually be happening.

Norma and her sisters at her Kingsville Baby Shower
(note: This should be the last time we will be having two parties)
Christmas came and we spent in Corpus Christi with Norma's sister Tommie Ann's family. We opened presents and everyone looked forward to the next Christmas which would be the coming baby's first. New Years day came and passed with me playing a gig in Freer, Texas. I rushed home and got home in time for the New Year.
The New Year came with many surprises. We learned that Norma would be having a baby girl that would be born in late August. Norma enjoyed being pregnant; she also had a very healthy pregnancy free from even the morning sickness that plagues so many women. She stayed active in the Columbian Ladies and in her other interests through out her pregnancy.
The students at school constantly asked when the baby would be born. I told them that the event would be in the summer, but that we would put it in the paper. The school year closed and summer began. We felt we had a lot of time to prepare. We developed a system. We would make a package of clothes and other items and, a week before the due date, we would relocated to Corpus Christi where we would await the birth at my Brother-in-law Steven Deleon's house.
None of this was allowed to happen! …And so, the sun rose on the 28th day of July of the year 2003. I was sleeping in, why should I have done otherwise? Norma had got up at 7:00 a.m. and was feeling a little bit strange. This was a fact that she chose to keep from me. I stayed there in bed, awake but relaxing. Norma came in the room. "Why are you dressed up?" I asked. She was wearing clothes that were…er…different. She answered that she had just grabbed anything and put it on.
In the back of my mind, I must admit, I sensed something strange. Everything was fine, but it really wasn't. My mother then knocked on my bedroom door. She told me that Norma was spotting! This was serious, I flew from my bed and rushed to the shower. Everything and gone from being "really good" to "potentially catastrophic!"
I got dressed and began to deal with the new crisis. We were going in the PT Cruiser, but it had not been fueled. (Who would have thought we were going to need it?) My mother had to make some money orders for some junk my Dad was buying on E-Bay. We left Norma with Grandpa Cat, who was pacing back and forth like an (dare I say it) expectant father. When I got back, it was bedlam!
Norma had begun having contractions, the earlier ones she had dismissed as "false labor." Norma had called the doctor to see her because Norma had been sure that she was having "false labor." As we went left the house for Corpus Christi Norma began the most serious of the contractions. I was in the driver's seat, Norma in the passenger sear in anguish and my mother in the back seat recording the contractions.
We drove at a frantic pace, each mile marking a new level of excitement and desperation for our little family outing. The lines on the road blended into one line as the contractions went from 8 minutes to 5 minutes apart. By the time we reached the Los Catorces (the name given to the overpass at the junction of Highway 281 and Farm-to-Market road 141 that is equally 14 miles from Premont, Kingsville and Alice, Texas) Norma began to bare the pain of "camel-back" contractions, 2 contractions in rapid succession.
We turned from U.S. 281 and onto FM 141 and on into Kingsville, Texas. As we entered Kingsville we noticed that a train was passing and blocking the road. "What should I do?" I questioned Norma. "I DON'T CARE!" she yelled. I turned left on Armstrong St. and went to the Corral St. intersection and speed over the tracks there and we were on out way to Corpus Christi, Texas.
We went through FM 665 through Petronila, Texas. The cotton fields were lovely that day and Norma was in anguish. Even I started to cry, I couldn't stand to see my kitten suffer so. "Look…Look, Norma…" I said, "…look at the pretty cotton!" Again she told me to "Shut-up, and drive." She also said a few words to unspeakable to be printed here.
We entered Corpus Christi, Texas from the south on Way-Out-Weber, St. where it promptly began to rain on us. We turned right on Saratoga Avenue and were just a few blocks from the hospital when…BANG! … a red light at the Staples St. intersection. "RUN the DAMN light!" So for the first time in my life I ran a red light.
We finally arrived at the hospital, Spohn Hospital South. An elderly volunteer was wheeling an empty wheelchair into the hospital. "Wait!" I yelled, "…we need that. My wife is going to have a baby!" She wouldn't give it up until my mother gave the lady a driver's license. Norma and I went into corridors of the Hospital and I checked her in while she went into the birthing room. The room as filled with nurses and specialists…with the exception of the Doctor. You see, Norma began going into labor in Premont at 10:00 a.m. it takes an hour and a half to get to Corpus Christi. The doctor was out to lunch.
This was no "false labor," this was the real thing. Norma asked in vain to the nurses for painkillers, they told her that only the doctor could administer medications. Finally the doctor arrived, much to her chagrin… the doctor said it was too late for medications!
Norma bore her child marvelously and with dignity (and a few screams.) When Micaela Rae was out in the open air, Norma and I cried like babies. She was so beautiful; I followed her to be cleaned and was with Micaela every step of the way.
I then took Miacela to be with Norma for the first time, forever.

Norma and Micaela for the first time

Grandparents holding Micaela
Friends and relatives came from all around to be with us on that day. By the end of the day we had had several visitors. We slept in the hospital for the first time as a family, the doctors made us stay there since Micaela came early. I was taking Political Science with Dr. Albert Ellis and the next day I went to class. I also gave an "It's a girl" cigar to radio show host Eric Von Wade who announced her birth to South Texas.

Micaela prepares for her first trip home
Here are some pictures of Micaela's first months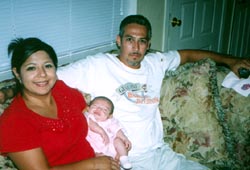 Micaela and her Cousins Stevie and Emily. She is also pictured with here her aunt Tommie Ann and Uncle Steven Deleon

Micaela being prepared for Church in her dress followed by her first publicity shot!
Micaela With her Daddy, Capt Carrales
Here are some pictures of Micaela's first trip to Dallas

Micaela and her Dad relaxing in Lewisville, Texas

Micaela with her Great Cousins Marcos and Monica Gonzalez

Micaela Carrales with her Cousin Joe David Soilz being held by her father
Here are some pictures of Micaela with some relatives

Micaela with her aunt Palmira Garcia

Micaela With her Great-Grand Mother Viola Carrales and Great-Grand Father Catarino Saenz

Micaela with her Aunt Pamela and Uncle Lalo Gonzalez